Morecambe Bay Food Bank collections in Burton
I'm really pleased to be able to say that we are now a collection point for Morecambe Bay Foodbank!
Morecambe Bay Foodbank will accept all donations but are especially keen to have:
Tins of: beans; meat(s); fruits; vegetables; fish; soup; tomatoes; rice pudding
Bottles of: squash; juice (esp. orange); jam; pasta sauce
Packets of: pasta; sugar; cereal; teabags; instant noodles; instant rice; biscuits; custard; instant mash
If anyone in Burton would like to donate to the food bank but cannot get to a collection box please message us and we'll arrange for a pick up from you by a member of the team, or if you prefer you can donate money directly to the food bank via this link, and thank you for all of your support so far.
Our first 24 hours as a collection point
Our first 24 hours as a collection point for the Morecambe Bay Food Bank exceeded our hopes!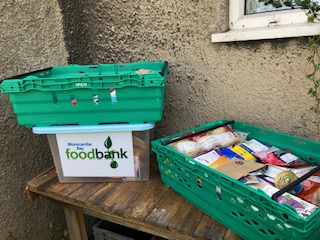 We received 16kg of donated foods in 24 hours, which is fabulous, thank you to everyone who donated to the box. The contents have been collected by the Food Bank van today, so we now have a whole week to collect before the next collection. I wonder what the coming week will bring?
Just for comparison, our neighbours in Holme village a mile away collected 128.5 kg for the Food Bank, so we've a way to go to catch up, but knowing the generosity of this village I am sure we'll manage it.
Please continue to leave your donations at one of our collection points: 4 Drovers Way or 31 St James' Drive; the Food Bank needs them now more than ever, on average they are sending out 3 tonnes a day to needy families in the Morecambe Bay Food Bank area.
Thank you to everyone who is helping us to help the Food Bank help those in greatest need.
Where does it all go?
If you've ever wondered what happens to the food etc that you donate to the food bank, the videos on this link will show you. Thank you to everyone who is supporting the food banks in these challenging times. Our collection points in Burton are operational during daylight hours, and your donations will be very welcome. Thank you!
5.4 tonnes of food in 3 weeks!
It's an astonishing amount; that's what the collection points for the Morecambe Bay food bank have collected since the village collections began three weeks ago. Each week we are seeing more items donated into our boxes, all of which are collected each Wednesday by the food bank van and taken to the central hub ready to be parcelled up and sent out to those in need.
This week the food bank team have made a time lapse video of the collection team in action in our neighbouring village of Holme. You can watch it here: https://drive.google.com/file/d/1R5PZ-LjFF4-xCeA0xeaf0uWrzPxcxJeX/view?usp=sharing
What gets donated?
This is the week 3 collection from just one of our collection points in Burton.